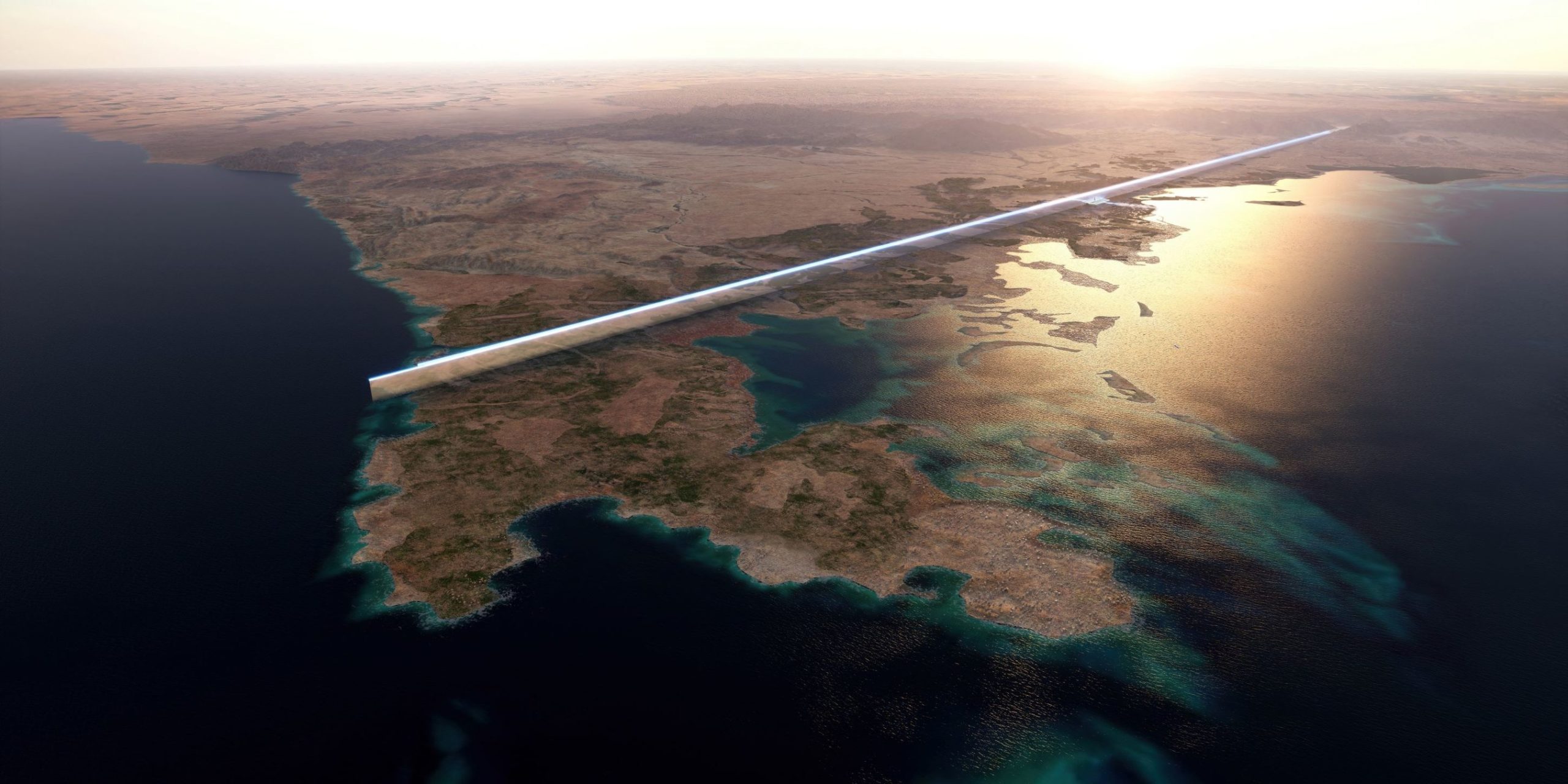 Arabia is a country with a staggering number of revolutionary projects in progress. And if you've heard details or seen renderings of "The Line," you may already understand that this proposed megacity is the most ambitious goal of all. This complete rethink of what a city can be is the centerpiece of NEOM, the Saudi government's effort to diversify away from oil.
The Details
The NEOM initiative is comprised of multiple projects in Saudi Arabia's Tabuk Zone, where a resort, an airport connecting to King Khalid International Airport in Riyadh, and a royal compound have already been completed. Megacity "The Line" is soon to follow. Characteristic of the project's ambitious goals, the proposed city will run on clean, renewable energy and emit zero carbon emissions when completed.
First announced in 2021, initial excavation work along the length of The Line's site began last October. If all goes to plan, the final city will be 170 kilometers (106 miles) long and 500 meters (1,640 feet) tall. Rather than being built from the ground up, the plan is to assemble the city in 135 800-meter-long (2,625-foot) modules.
Originally projected to have a budget of $500 billion USD, the city's final expenditure is now expected to exceed this amount. While this may seem like a significant increase, changing cost assessments are not unusual for large-scale projects. This is especially true when both construction and management target the use of still-emerging technologies.
Addressing Critical Population Needs
According to Crown Prince Mohammed bin Salman, The Line will address an anticipated population crisis. The Kingdom's infrastructure is already struggling to keep up with population growth, and projections quoted by the Prince estimate population growth from 36 to over 50 million residents by the end of the current decade.
Expected to become home to 9 million residents in a space of approximately 2600 square miles, the planned city will have a population density approximately 10 times greater than Manhattan. According to NEOM, this minimal urban footprint will play a significant role in The Line's position as a green, sustainable city.
Ecological and Environmental Considerations
In addition to making use of wind and solar energy, The Line's planners have also stated that the project will make use of emerging sustainable technologies, such as hydrogen-powered vehicles and artificial intelligence, to optimize energy consumption and minimize waste.
One central environmental concern is the potential impact of this development on water resources. The Line project is located in a desert region, and water will be needed to sustain the city and its inhabitants. Addressing this issue is another area where the project looks to new technologies. NEOM's proximity to the Red Sea could open the door for modern techniques like desalination to alleviate some of the city's needs.
Other considerations, such as how the final project would accommodate the local plant and animal species currently inhabiting the desert region, are constantly evolving as the project progresses.
Construction and Technical Challenges
While there are many potential benefits to a project like The Line, an unprecedented project of this scale presents unique technical challenges as well. In addition to materials and energy, The Line will have to contend with exposure to strong winds, solar gains, and extreme temperatures (up to 130 degrees Fahrenheit).
Likewise, tall buildings rely heavily on artificial lighting and require extensive ventilation and structural support. Lateral stability is also a serious concern for long, tall, straight walls like these. While these challenges are not insurmountable, they do speak to the ambition of this project.
Some experts have also noted the availability constraints of current building materials. In a conversation with Dezeen Magazine, Philip Oldfield, head of the Built Environment School at the University of New South Wales (UNSW) Sydney, stated that constructing The Line would require "a phenomenal quantity of steel, glass, and concrete."
Despite criticisms and concerns, the project's leaders have stated their commitment to exploring the potential of emerging green construction materials and techniques, which could have the potential to mitigate some of these issues.
Rethinking the Future of Our Cities
Even skeptics of The Line's unprecedented layout acknowledge the importance of ambitious projects like these. In their paper Arguments for building The Circle and not The Line in Saudi Arabia, Rafael Prieto-Curiel and Dániel Kondor noted that The Line represents "the embodiment of the dream to start from scratch and completely rethink a city."
According to Prieto-Curiel, initiatives like this serve an essential purpose in the future of architecture and construction. Speaking to the Global Construction Review, he noted, "This project gets people discussing urban forms, and that's immensely important because cities, especially in Africa, are growing."
Turning Dreams into Reality
Regardless of what the completed project may become as it evolves, The Line presents a fascinating look into what the future of construction may look like. And while architectural plans and artistic renderings make public waves, the feasibility of megaprojects like The Line depends heavily on the guidance of expert construction managers and consultants.
The value of experience cannot be overstated, especially when it comes to implementing audacious new ideas. With a proven record in both megaprojects in the Middle East and beyond, DG Jones and Partners is your trusted provider for Certified Construction Managers.
Want to learn more about how proven construction management expertise can make even the most groundbreaking new projects possible? Speak to one of our experts today!